Getting to know A Multigenerational KOA family
Getting to know A Multigenerational KOA family
One of my very favorite things about staying at all different KOA properties across the USA, is meeting their owners and seeing the unique twists they bring to their campgrounds. We were fortunate enough to be staying at the St. Louis West location when three generations of the Bell family were too. The Bell Family are the owners of three different KOA locations- their newest one in St. Louis, San Diego Metro and Grand Canyon/Williams in Arizona.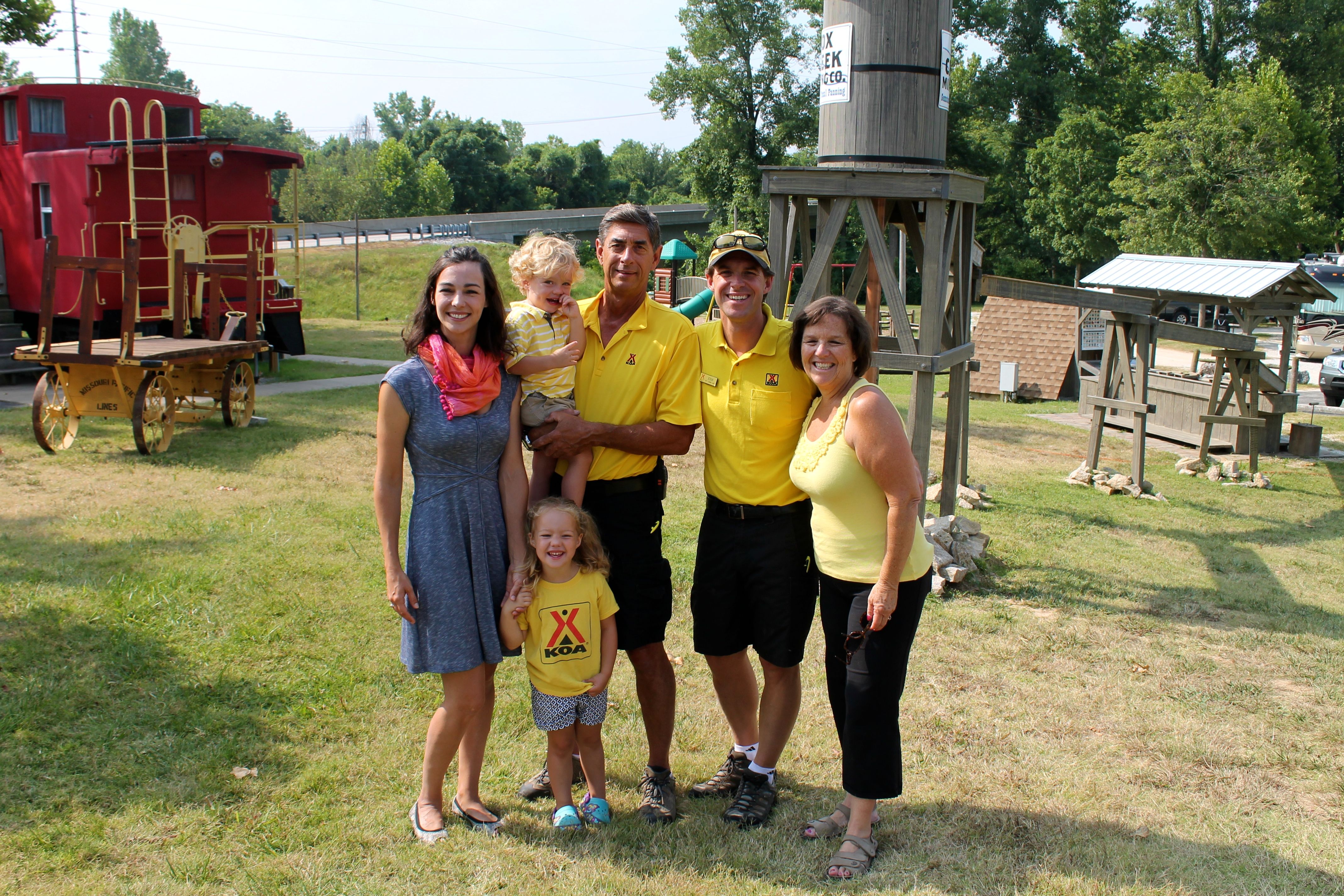 Ted and Carol Bell purchased the San Diego KOA back in 1968, putting this popular campground under their direction for over 45 years now. Ted, at 85, is still in the business and very passionate about all of the construction projects around the campgrounds. Carol used to do all of the books until taking a more hands off role.
Ted and Carol's only son, Mike, is President of the family company. He and his wife, Rowena, are owner operators of the San Diego location. This park is under a huge redevelopment plan including the addition of an upscale cafe/restaurant, The Sandcastle Cafe, on the property for the very first time. We had the pleasure of spending some time with Mike And Rowena while they were in St. Louis visiting their oldest son and his family.
Third generation kids Josh, Clint and Molly are all involved with the campgrounds now. There was never an expectation from Mike and Rowena that their kids had to join the family business. Josh, Clint and Molly were always encouraged to pursue their own dreams and all went away to college. They also lived in various places, pursuing different job choices for many years. How neat that they have made their way back to the family business and all have various roles in the company at this time. Even their spouses all have unique roles!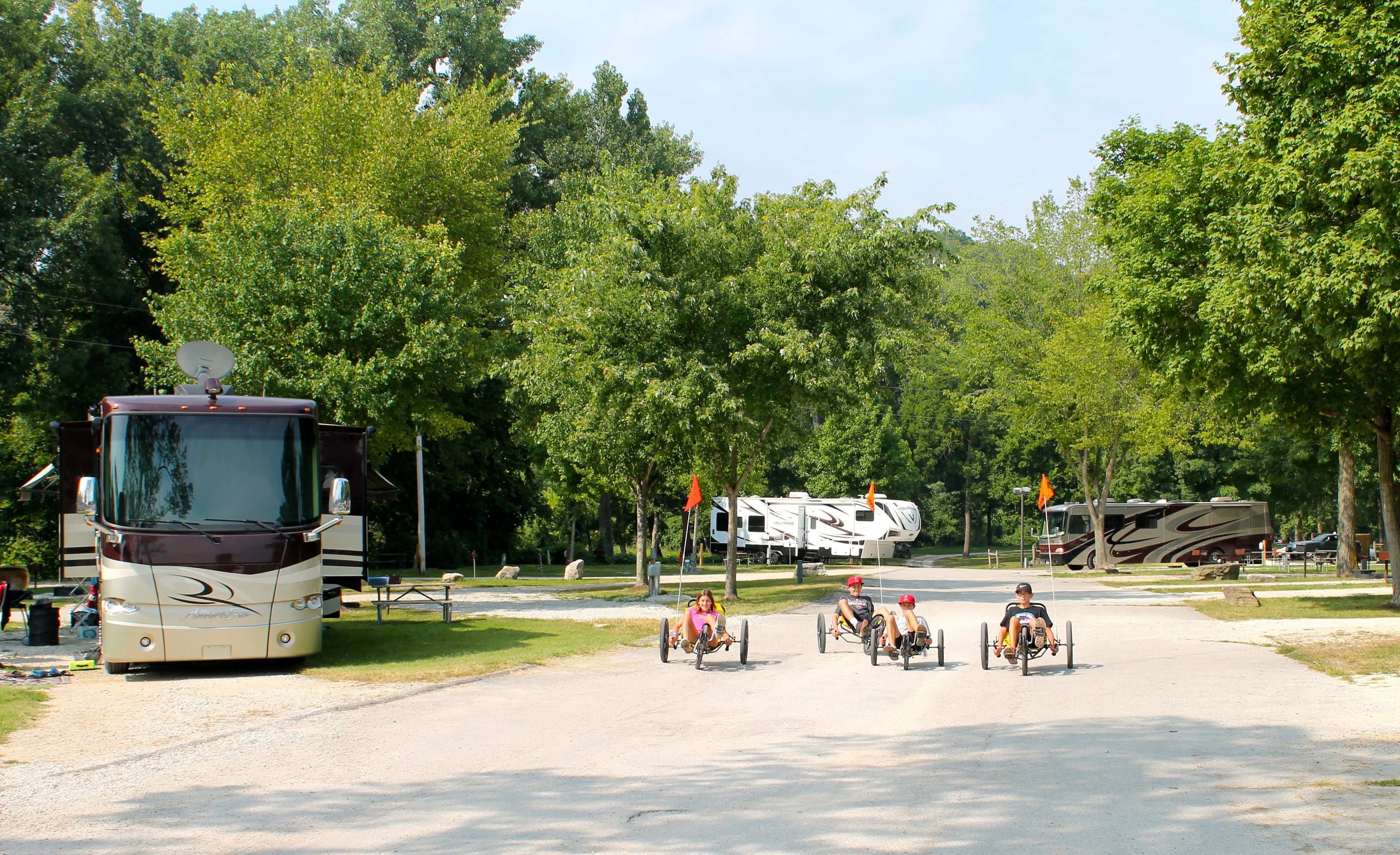 Josh and his wife, Nannette, are hands on owners of the St. Louis West KOA and have done an amazing job with this property since taking it over just a year ago. Josh does anything and everything as I witnessed firsthand. From the first time he answered the phone when I called to make my reservation, I knew this was going to be a great place to stay. Nannette is in charge of marketing for all of the family campgrounds and has done an awesome job with their store. You would be hard pressed to find a cuter KOA store than theirs! She has brought in popular gift lines such as Natural Life, Danica Studio swedish dishcloths and the infamous poopourri, as well as many other adorable lines. If you live in the St. Louis area, it's worth it to just come shop here for any gifts you may need for an avid camper! Very fun!
Middle brother Clint manages and runs the San Diego park while his wife, Courtney is an avid foodie who's been put in charge of food and beverage.
Daughter Molly Crawford runs the large activities program in San Diego, as well as merchandising. Her husband Ryan currently has a job outside of the family company but is an avid camper/outdoorsman so he brings a different set of eyes to the table. Molly, along with Mom Rowena, also owns a company creating competitive dance costumes for studios across the United States!
So far there are six little Bell family proteges, two coming from each set of parents!
About the Bell family KOA year round properties:
San Diego has a rich staff of employees, some who have been with them for the past 20-30 years. The campground offers a large summer activity schedule as well as monthly themed weekends like Chocolate weekend in January and a wellness weekend in March, that I'm really hoping to be at! In April, you can come learn all about your RV if you are a new owner or thinking about buying one, at their Shake Down for your RV weekend.
With the addition of their upcoming property restaurant, San Diego Metro KOA will be branding themselves a KOA Resort property, under the new brand positioning recently put into place by KOA corporate to help campers better understand the offerings of each park.
The Bell family purchased this location in 2007 after a fire had burnt all of the campground's main facilities. They were able to build the park back up and it is now a KOA quintessential Journey branded park. It's close proximity to the Grand Canyon makes it a popular stop and it offers food service at the Cowboy Cafe as well. It is unique in the fact that there is another KOA just 5 miles away!
St. Louis West will soon implement some deluxe cabins this fall so that they can be a KOA Holiday branded property. They are also working on a plan to have the best internet service they can provide guests.
According to Nannette, "Folks don't know how to do downtime anymore. We thought people would want to come here and unplug but people don't want to do that. We find they want even more wifi to stream their netflix and surf the web, so we want to provide that."
St. Louis offers a summer activities schedule full of fun happenings for kids and their families. Our kids had to be back at the campground one night for Bingo and the next for the flashlight lollipop hunt.
Thanks Bell Family for a great time! We look forward to visiting with you on your properties closer to our Arizona home soon!
Written by Amy Carney at www.WeAreTheCarneys.com
Read the Original Post Here